Please call the individual sites directly to inquire about the events listed on our event calendars and to inquire about hours.
The Maurice D. Hinchey Hudson River Valley National Heritage Area does not own or operate any of the sites listed below. They are owned and managed by the organizations listed in the site descriptions. Please call ahead for special accommodation needs or with any questions about their sites.
Thomas Cole National Historic Site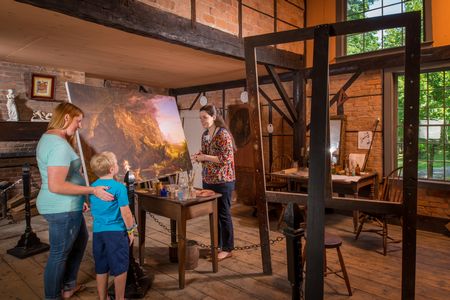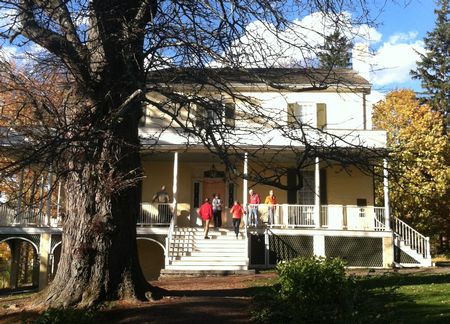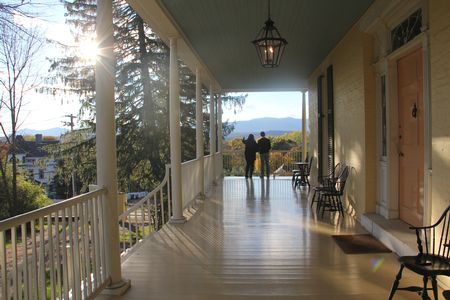 218 Spring Street
Catskill, NY
Greene County
Grounds open daily, dawn-dusk Guided indoor tours available, check website for tickets
See website for details
Thomas Cole, founder of the Hudson River School of landscape painting, first visited this handsome Federal-style dwelling in the late 1820s when he rented a room during his sketching trips to the Catskills. In 1836, he married Maria Bartow, who occupied the house with her uncle, and moved in permanently. In the newly restored and furnished studio on the property, he painted some of his best-known works. Frederic Edwin Church (who later built his home, Olana, just across the Hudson River) spent two years here as Cole's pupil. Today, the site is home to a great variety of educational programs about the Hudson River School. Several rooms feature a museum-style display on Cole's creative process, exhibiting unique objects such as his portable paint box and easels. The porch offers a spectacular panoramic view of the Catskills while the visitor center provides a map to the nearby places where Cole and others sketched dramatic views of mountains and waterfalls.
Amenities: Passport Stamp
Similar Destinations
Associated Itineraries
Tourism Information