The Hudson River Valley National Heritage Area does not own or operate any of the sites listed below. They are owned and managed by the organizations listed in the site descriptions. Please call ahead for special accommodation needs or with any questions about their sites.
James Vanderpoel 'House of History'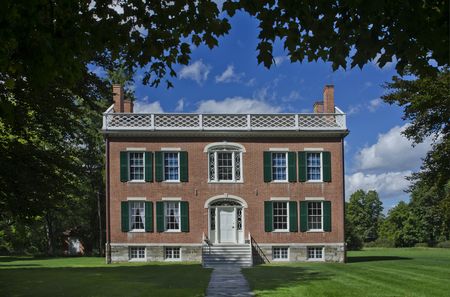 16 Broad Street, Route 9
Kinderhook, NY
Columbia County
Saturday and Sunday, noon-4pm. For seasonal hours, please check the website.
$7.50 and includes the Columbia County Historical Society Museum & Library (5 Albany Avenue). All-site pass with the Luykas Van Alen House and Ichabod Crane Schoolhouse $15. Free for children ages 0-12, students with ID, and CCHS Members.
Built during the Federal era as the home of prominent lawyer and politician, James Vanderpoel and his family, the property is now an exhibit space featuring galleries of paintings and decorative arts from the Columbia County Historical Society permanent collection. The Columbia County Historical Society Bookstore & Museum Shop is located within the house.
Amenities: Family Friendly