Please call the individual sites directly to inquire about the events listed on our event calendars and to inquire about hours.
The Maurice D. Hinchey Hudson River Valley National Heritage Area does not own or operate any of the sites listed below. They are owned and managed by the organizations listed in the site descriptions. Please call ahead for special accommodation needs or with any questions about their sites.
Crailo State Historic Site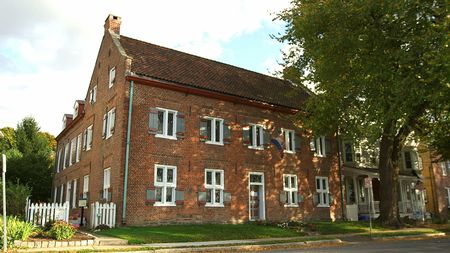 9-1/2 Riverside Avenue
Rensselaer, NY
Rensselaer County
2021 Hours of Operation May 12th October 31st Wednesday Sunday: Tours hourly between 11am and 4pm
Handicap Accessible
$5 Adults $4 Seniors/Students* Children, 12 and under: Free Group tours: Bus Group - $4 per person with pre-registration School Tours - $1 per student
Originally constructed for Hendrick Van Rensselaer, the grandson of Kiliaen van Rensselaer, the first patron of Rensselaerswyck, whose landholdings encompassed much of present-day Albany and Rensselaer counties. The Crailo estate encompassed about 1500 acres east of the Hudson River, part of which was in present day Claverack in Columbia County. The home was as a fortress, with thick walls, gunports and even a palisade at one point, which served the family, tenant farmers, soldiers and slaves well in times of threat. Later in the 18th century, the brick structure was remodeled, first in the Georgian and then the Federal style. Exhibits focus on the daily life of the Dutch colonists, and include examples of household objects, games, furniture, weapons, and building materials. Also on display are artifacts uncovered during archaeological digs at the site of Fort Orange, erected in 1624 near Albany to serve as a trading post for the first Dutch settlers.
Amenities: Passport Stamp, Family Friendly, Public Transportation, Restrooms
Similar Destinations
Associated Itineraries
Tourism Information