Please call the individual sites directly to inquire about the events listed on our event calendars and to inquire about hours.
The Maurice D. Hinchey Hudson River Valley National Heritage Area does not own or operate any of the sites listed below. They are owned and managed by the organizations listed in the site descriptions. Please call ahead for special accommodation needs or with any questions about their sites.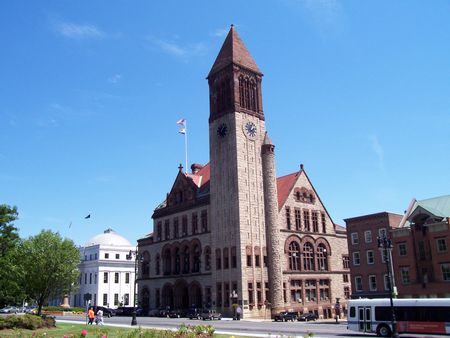 24 Eagle Street
Albany, NY
Albany County
Monday to Friday: 8:30am to 5pm
Free
Handicap Accessible
A grand Romanesque-style building, Albany's City Hall was designed in 1882 by Henry Hobson Richardson, then America's greatest architect. Constructed of Rhode Island granite with a darker stone trim, the building features a profusion of arches, a pyramidal-roofed tower, and a 49-bell carillon—the first municipal carillon in the United States. Considered to be the most Romanesque of all of Richardson's buildings, it contains many of his trademark features, including intricately patterned stonework, rich floral carvings, and fanciful finials and gargoyles.
Amenities: Public Transportation, Restrooms
Similar Destinations
Associated Itineraries
Tourism Information