Please call the individual sites directly to inquire about the events listed on our event calendars and to inquire about hours.
The Maurice D. Hinchey Hudson River Valley National Heritage Area does not own or operate any of the sites listed below. They are owned and managed by the organizations listed in the site descriptions. Please call ahead for special accommodation needs or with any questions about their sites.
Discover Albany Visitors Center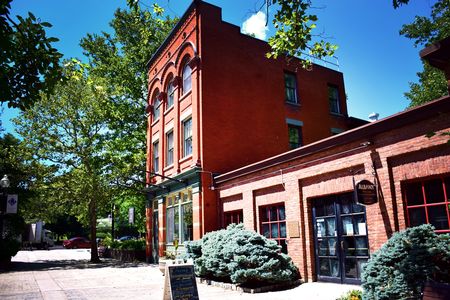 25 Quackenbush Square
Albany, NY
Albany County
Thursday to Saturday 10am-2pm Masks required upon entry
Handicap Accessible
Free admission to visitors center; $3 for planetarium.
The Albany Heritage Area comprises all of downtown Albany and is one of 20 New York State Heritage Areas and Corridors that preserve, interpret, and promote special places in the Empire State. The center is located in the former Quackenbush Pumping Station, built in the 1870s, where water was pumped from the Hudson River for filtration before being pumped uphill to city reservoirs. The center provides visitors access to information seven days a week and a gift shop is stocked with unique Albany items and locally made products. The visitor center is the ideal jumping off point for exploring Albany or the Capital Region. Knowledgeable staff can answer visitor inquiries and the center is well stocked with travel brochures. Print versions of self-guided walking tours are available year round, and guided walking tours are offered seasonally.
Amenities: Restrooms, Public Transportation, Passport Stamp
Tourism Information