Please call the individual sites directly to inquire about the events listed on our event calendars and to inquire about hours.
The Maurice D. Hinchey Hudson River Valley National Heritage Area does not own or operate any of the sites listed below. They are owned and managed by the organizations listed in the site descriptions. Please call ahead for special accommodation needs or with any questions about their sites.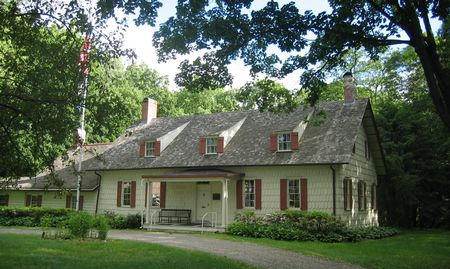 50 Van Nydeck Avenue
Beacon, NY
Dutchess County
Tours every 2nd Saturday, 1:00-4:00 pm
Call for details
In 1709, Roger and Catheryna Brett, with their children and slaves, emigrated from New York to Dutchess County and hired a Long Island architect to build this Dutch-style house. Over the next seven generations, until 1954, the home remained in the family. Today, the Madam Brett Homestead is the oldest house in Dutchess County and is maintained by the Daughters of the American Revolution. Architectural features include original scalloped shingles, Dutch doors, and sloping dormers. The home's interior is decorated with original Georgian, Empire, and Victorian furniture; a collection of 18th-century Chinese porcelain; silver tea sets; displays of early doll collections, textiles, and tools; a copy of Houdon's bust of Robert Fulton; a punch bowl presented by Lafayette; plus items belonging to Catheryna Brett.
The remaining five acres surrounding the home feature a perennial garden, brook, and one of New York State's Big Trees dating to the time of Catheryna Brett.
Amenities: Public Transportation, Greenway Trail Access
Tourism Information