Revolutionary War Routes in the Hudson River Valley
Henry Knox Cannon Trail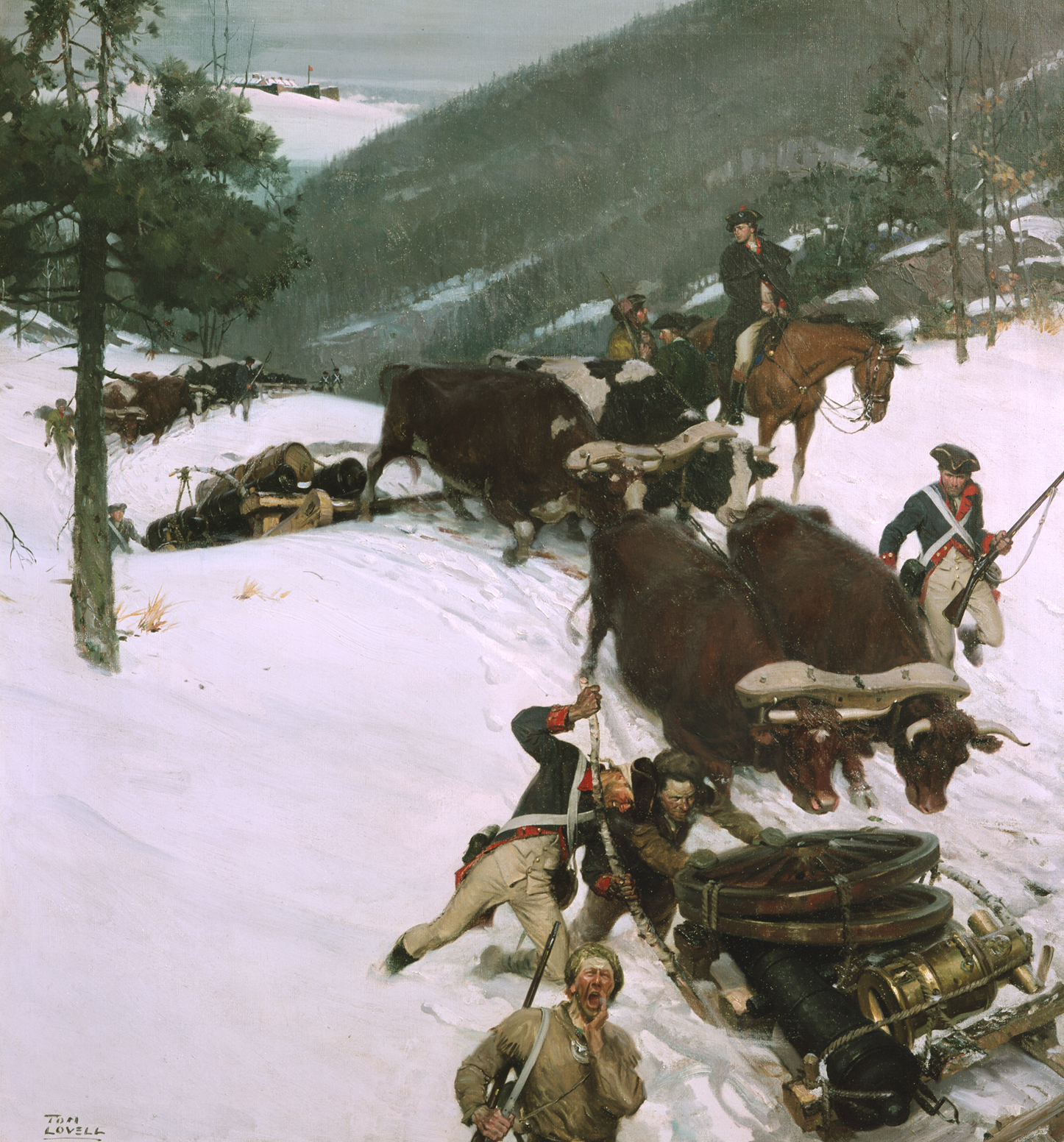 Henry Knox's "noble train of artillery" pushes on through the deep snow. Courtesy Tom Lovell, Dixon Ticonderoga Company Collection
In May of 1775 Colonels Ethan Allen and Benedict Arnold captured Ticonderoga and Crown Point, two British forts on Lake Champlain in upstate New York. American Patriots were jubilant. They had foiled the British at Lexington and Concord, besieged Boston, and inflicted heavy casualties on King George III's troops in the Battle of Bunker (Breed's) Hill.
On June 19 the Second Continental Congress appointed George Washington commander in chief of the Continental Army besieging Boston. Washington was honored but worried as he assumed command on July 3. The colonists did not have enough gunpowder and heavy artillery to force the British out of Boston. As the siege dragged on into the fall, General Washington and his officers debated whether to sit tight or attack. Colonel Henry Knox, a 25-year-old Bunker Hill volunteer, promoted a scheme—apparently first suggested by Arnold—that the Patriots transport the guns from Fort Ticonderoga and Crown Point to Boston to help with the siege. Washington liked the idea. He put the bookish, self-taught artillerist in charge of the army's nearly nonexistent artillery and sent him to New York to bring back the guns.
Knox, accompanied by his 19-year-old brother William and a servant, arrived at Lake Champlain on December 5 and selected 59 artillery pieces for the 250-mile trek to Boston. Assisted by the garrison at Ticonderoga, Knox began moving the cannons, which weighed a total of nearly 120,000 pounds, on ox carts, boats, then sleds pulled by oxen—and later horses—down the lake and along the Hudson to Albany where he crossed. Aided at times by slippery ice and snow, hindered at other times by rain and mud, Knox cajoled the weary men and beasts up and down the slopes of the Berkshire Mountains and across Massachusetts. On January 24 the last of Knox's "noble train of artillery" arrived in Cambridge.
By early March, with Knox's heavy guns arrayed on Dorchester Heights, Washington was ready to bombard the British entrenched in Boston. Recognizing they were trapped and with plans to take New York, the British troops—accompanied by many Loyalists—began to leave. On March 18 the victorious Continental Army marched into the city.
The Route Today
Fifty-six monuments were installed along the route in 1927 to commemorate the arduous 56-day journey. Thirty of the granite monuments and bronze plaques mark the route in New York from Fort Ticonderoga to the Massachusetts border near Hillsdale. Starting near Great Barrington, 26 monuments mark the trail in Massachusetts. The installation of these monuments represents one of the earliest heritage trails created in the United States. Begin your travels in New York at any place along the route. Besides Crown Point and Fort Ticonderoga on Lake Champlain, key heritage sites to visit in New York include the Schuyler House in Schuylerville and Saratoga National Historical Park in Stillwater. The Henry Knox Cannon Trail Monuments in New York are listed below.
Crown Point

Halfway Brook, also known as Bloody Brook or Pond, US 9

Bemis Heights, triangle, US 4/NY32 south of Saratoga National Historical Park

Rensselaer, Aiken Avenue and US 9

Fort Ticonderoga, Place of Arms courtyard

Glens Falls, US 9, Crandall Park

Stillwater, in park opposite library

East Greenbush, Dutch Reformed Church, west side of US 9

Fort Ticonderoga, King's Dock, transfer point from land to water; second marker on entrance road

Hudson Falls, public library, Main Street, US 4

Mechanicville, Post Office, east side of Main Street

Schodack, triangle at junction of US 9 and US 20

Fort Ticonderoga, village park, transfer point from water to land

Fort Edward, high school, US 4

Waterford, Soldiers and Sailors Memorial Park near bridge
on Broad Street

Kinderhook village park, US 9

Fort Ticonderoga, Mossy Point State Boat Launch, transfer point to Lake George vessels

Fort Miller, US 4, near church

Loudon Road, west side of US 9, near Mohawk River

Ghent, NY 66 at intersection with Snyder Road

Sabbath Day Point, private property

Stark's Knob Road, US 4/NY 32

Latham, Calvary Methodist Episcopal Church, west side of US 9

Taconic Parkway, Harlemville Road between NY 217 and NY 203 exits

Bolton Landing, near public dock, Rogers Memorial Park

Schuylerville, Memorial Park, south end of village

Albany, Loudonville Road and Northern Boulevard, Loudon Shopping Plaza

Green River, at triangle at junction of NY 22 and NY 71

Lake George Battlefield State Park

Ensign House, Ensign Lane, south of Schuylerville

Albany, Jennings Landing

State Line, NY 71
While you are following the trail, consider taking side trips to Peebles Island State Park at Waterford; the Schuyler Mansion and Historic Cherry Hill in Albany; Crailo in Rensselaer; the Luykas Van Alen and Vanderpoel Houses in Kinderhook; the Senate House in Kingston, and other Revolutionary War sites. At Vails Gate, south of Newburgh, visit Knox's Headquarters, the house where Maj. Gen. Henry Knox stayed at four different times during the war.
---
Washington-Rochambeau Revolutionary Route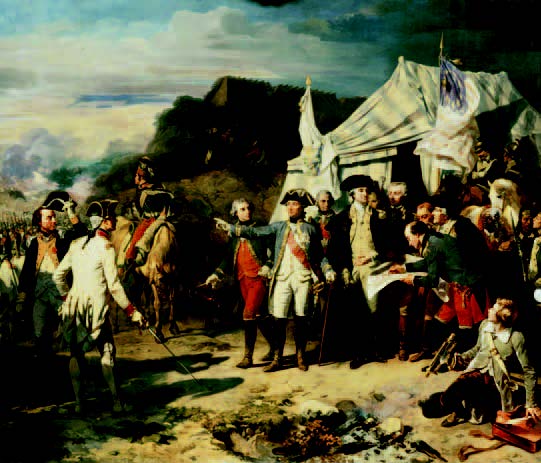 General George Washington and Comte de Rochambeau (pointing) review their plans to besiege the British at Yorktown. Courtesy Réunion des Musées Nationaux/Art Resource
With the Patriots in control of Boston, the British under the command of General William Howe and Admiral Richard Howe turned their attention in 1776 to New York City. After winning the battle of Brooklyn (Long Island) in August and occupying the city in September, General Howe's forces fought a series of cat-and-mouse battles with George Washington's troops at Harlem Heights and White Plains and captured Forts Washington and Lee.
Then, in October 1777, the Continental Army stunned the world by forcing the British to surrender at the Battles of Saratoga in the Hudson River Valley. The British were humiliated. After abandoning Philadelphia in June 1778, they decided to hunker down in New York City and concentrate on quashing the rebellion in the South.
The Patriots' victory prompted France in February 1778 to join the American cause. At first the French provided much needed loans, supplies, and naval support. Then, on July 11, 1780, Lt. Gen. Jean Baptiste Donatien de Vimeur, Comte de Rochambeau, arrived in Newport, R.I., with 5,300 infantry soldiers and artillerymen.
In a series of letters and meetings, Washington and Rochambeau agreed the two armies and the French navy would work together. Washington wanted to attack the British in New York City. Rochambeau wanted to attack in Virginia. They agreed to concentrate their forces in New York.
On June 10, 1781, Rochambeau's troops left Newport by boat to Providence, where they began a three-week march across Connecticut to Ridgebury. They crossed into New York and joined the Americans at Greenburgh (formerly Philipsburg), where they stayed for six weeks. Rochambeau set up his headquarters at the John Odell House, which still stands on Ridge Road in Hartsdale, and Washington established his headquarters nearby at the Joseph Appleby farm. During the encampment, Washington and Rochambeau reconnoitered the British fortifications protecting Manhattan.
In August, Washington learned that Admiral François Joseph Paul, Comte de Grasse, was sailing with his fleet to the Chesapeake Bay. He left a small force in New York and, with 2,700 Americans and Rochambeau's 4,200 soldiers, headed south toward Yorktown, Va., where the British were massing troops. The allies camped at Mount Kisco (North Castle), Yorktown (Hunt's Tavern), and Verplanck's Point, where they crossed the Hudson and camped near Stony Point at Haverstraw. They then proceeded to Suffern, crossed the Ramapo River, and marched into New Jersey.
The soldiers marched on through Princeton, Trenton, and Philadelphia to the Head of the Elk at the north end of the Chesapeake Bay, where some troops boarded ships for Yorktown. Most trudged on to board ships at Baltimore and Annapolis. Washington and Rochambeau continued overland through Virginia with the artillery horses, cavalry, and wagon train.
Meanwhile French naval forces under Admiral de Grasse drove a British fleet from the mouth of the Chesapeake, and Admiral Jacques-Melchior Saint-Laurent, Comte de Barras, sailed in from Newport with French siege guns. The allies closed in and besieged Yorktown. With no way to escape by land or sea, Lt. Gen. Charles Lord Cornwallis surrendered his army of almost 8,000 to Washington on October 19, 1781.
After wintering in Virginia, Washington and his troops headed back north to New Windsor, N.Y., for their final winter encampment. Rochambeau's forces marched back through New York—camping at Peekskill, Yorktown Heights, and Salem—en route to Boston, where they boarded ships for the Caribbean.