Events
Please call the individual sites directly to inquire about the events listed below.
Founders Day: "Remember the Ladies"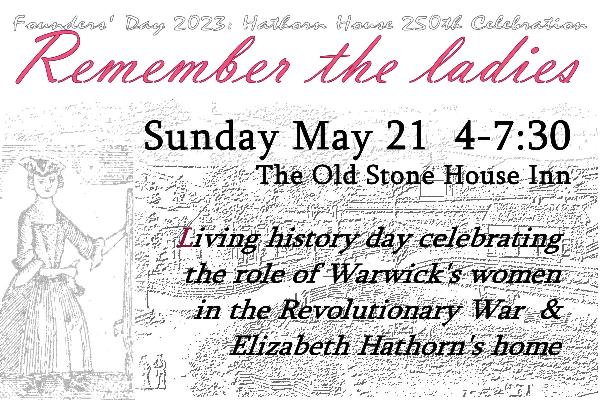 May 21, 2023
4:00 PM to 7:30 PM
Location: 21 Hathorn Rd., Warwick NY 10990
Please join us to explore the many ways in which "the ladies" helped during the war and suffered its hardships, and demonstrations of military life by Hathorn's Minutemen and the 5th NY Regiment. Our volunteers and historical organizations will be on-site outdoors from 4-6 PM at the Gen. John Hathorn house historic site for this free family-friendly event, thanks to the generosity of owners of The Old Stone House Inn. SPECIAL PERFORMANCE AT 6:30! A Revolution of Her Own!™ Deborah Sampson". Judith Kalaora of History At Play ™, LLC presents a living history performance chronicling the life of Deborah Sampson; the first woman to enlist, fight, and be honorably discharged from the American Military during the Revolutionary War. Sponsored by the Albert Wisner Public Library.
Sponsored by the Maurice D. Hinchey Hudson River Valley National Heritage Area