Behind-the-Scenes Networking Event at Hudson River Museum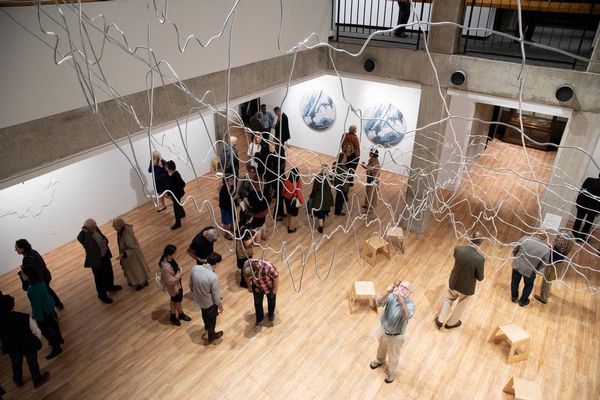 Jan 12, 2019, 2:00 PM to 4:00 PM
Location: 511 Warburton Ave, Yonkers, NY 10701
Behind-the-Scenes Networking events highlight the host site's collections, archives or exhibits and give GHHN members and friends the chance to forge connections in a relaxed environment. Sharing challenges and successes shows that we all - no matter the size of our site or organization - face similar issues.
Maya Lin: A River Is a Drawing is a groundbreaking exhibition developed in close collaboration between the Hudson River Museum (HRM) and this visionary artist, focusing on the theme of the Hudson River. With the Museum's architectural features and location along the banks of the river as a potent backdrop, Lin will create a series of new works and ambitious site-specific installations that invite visitors to interact.
The exhibition presents twelve works, with continuous focus on bodies of water, particularly the Hudson River. It begins in the lobby space with Pin River-Hudson Watershed, 2018, one of the largest in the series of her pin-river sculptures to date, composed of more than 20,000 pins. In the Museum's Courtyard, Reed River, 2018, an immersive installation is created from more than 200 bamboo reeds in the form of a 3D drawing of the Hudson River basin. Another outdoor installation, Concrete River, 2018, is on HRM's veranda and overhang looking out to the river vista. The piece connects existing cracks, holes, bumps on the grounds, by filling them in with painted silver lines, visually connecting the Museum's campus to the river. Don't miss your chance to see this fantastic exhibition - it closes on January 20!
We'll have a tour of the exhibition, followed by wine, hors d'oeuvres, and conversation in HRM's spectacular Glenview Historic Home. Please register by 1/8/19 as we need to supply an attendee list to the museum ahead of our event - space is extremely limited!
For more info, visit http://www.greaterhudson.org/behind-the-scenes-networking-events.html?fbclid=IwAR1AUzsY95AxFN0CQNmPEtNXvMqryEE-bZObHJ-aNesR_8wgWt2HMCsNFrA
Image: Guests at the Opening Reception for Maya Lin A River is A Drawing, courtesy of the Hudson River Museum's Facebook page