Events
Please call the individual sites directly to inquire about the events listed below.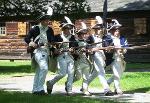 Jul 4, 2022
10:00 AM to 4:00 PM
Location: 374 Temple Hill Road New Windsor, NY 12553
At New Windsor Cantonment see a military drill and cannon firing at 2:00 PM, followed by a children's wooden musket drill. At Knox's Headquarters tour the 1754 Ellison House, the military command post for three generals. New Windsor Cantonment is open Monday July 4 10:00 AM - 5:00 PM. At Knox's Headquarters see a small cannon fired at 1:00 & 4:00 PM. Tours of the house at 10:00 AM, 11:00 AM, 1:00 PM, 2:00 PM, 3:00 PM & 4:00 PM. Admission is free.
More...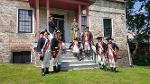 Jun 11, 2022
11:00 AM to 4:00 PM
Location: 1 Van Schaick Ave, Cohoes, NY
Journey back with reenactors to the American Revolution, from the Van Schaick Mansion to the Breastworks of Peebles Island and learn about the role that they played in the planning of the Battle of Saratoga. Hear from Native American storytellers about the earliest inhabitants of the area. Step through time to visit Matton Shipyard and learn about history of Delaware Avenue and the busy business corridor it once was.
More...