Events
Please call the individual sites directly to inquire about the events listed below.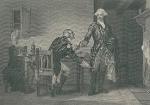 Jun 30, 2023
11:00 PM to 12:45 PM
Location: Marcia's Mile Parking Lot / Glenclyffe Trailhead Parking Lot 8 Glenclyffe Philipstown, NY 10524
A hike of Benedict Arnold's flight path exploring the history of the General's treason.
More...