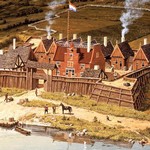 May 5, 2018 to May 5, 2020
Location: NYS Museum Cultural Education Center, Albany, NY 12202
Come to the NYS Museum for a new exhibition on Fort Orange, the first permanent Dutch settlement in New Netherland as told through artifacts, art, and film.
More...
Aug 25, 2019, 1:00 PM to 3:00 PM
Location: 145 Sterling Street, Beacon, NY 12508
Mount Gulian Historic Site will present a special tour that highlights items from the collection that are rarely on display.
More...