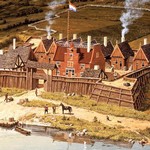 May 5, 2018 to May 5, 2020
Location: NYS Museum Cultural Education Center, Albany, NY 12202
Come to the NYS Museum for a new exhibition on Fort Orange, the first permanent Dutch settlement in New Netherland as told through artifacts, art, and film.
More...
Mar 24, 2019, 12:00 PM to 3:00 PM
Location: 265 River St, Troy, NY 12180
Free to attend, all ages welcome! 13 studios open with hands-on activities exploring mediums like: Dance & Movement, Drawing, Game Design, Jewelry, Painting, Photography, Pottery, Printmaking, Skateboarding, Stained Glass, Woodworking, and more! Raffles for Camps, Classes, & Membership! 10% Camps limited time offer- day of event only, must register in person.
More...