Furnace Fest at the Copake Iron Works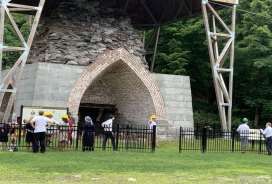 Oct 12, 2019, 12:00 PM to 2:00 PM
Location: 33 Valley View Road, Copake Falls, NY 12517
The Friends of Taconic State Park invite visitors to HAVE A BLAST as we celebrate the end of another banner year at the Copake Iron Works. After more than five years of ongoing preservation work, the furnace has been stabilized and protected, the Visitor Center offers a stunning diorama, an excellent film that depicts the history of the site during its working years, between 1845 and 1903, and exceptional guided tours of the Museum and surrounding buildings. You can even put on a hard hat and stand in the furnace while imagining what life was like in this important historical factory town.
Visitors will also learn about exciting projects and enhancements to the site that are forthcoming. Hamburgers and hot dogs will be available. There will be a silent raffle at the Copake Iron Works Furnace Fest The Copake Iron Works Museum Visitor Center is open daily. The Museum is open for tours between 2 and 4 pm on Saturdays and Sundays through October 13th.
The Copake Iron Works historic site is located within Taconic State Park, opposite 33 Valley View Road in Copake.