Events
Please call the individual sites directly to inquire about the events listed below.
Camp Huguenot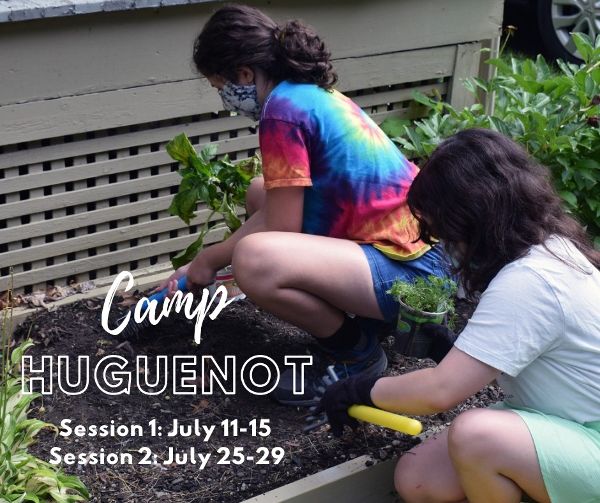 Jul 11, 2022
to Jul 29, 2022
Location: 88 Huguenot Street New Paltz, NY 12561
At Camp Huguenot, you'll travel back in time...
to learn about the agricultural practices, day-to-day lives, and responsibilities of Esopus Munsee, Huguenot, Dutch, and African peoples who lived on Huguenot Street for hundreds and thousands of years!
Campers will learn about the diverse lives and cultures of the people of Huguenot Street through hands-on gardening, cooking, baking, and crafting activities. Each day, campers will spend time in Historic Huguenot Street's on-site garden plot working with counselors and one another to sow seeds, harvest food, and maintain the integrity of the land through historical agricultural and sustainability practices. Campers will use the food they harvest from the garden to bake and cook traditional Esopus Munsee, Dutch, Huguenot, and African recipes, and food scraps will be used for crafts where possible, as well as lessons on historical and contemporary composting.
Additional time will be spent taking historic house tours, learning about local plants and their uses in the Nyquist-Harcourt Wildlife Sanctuary, and fishing at the pond at SUNY New Paltz.
Session 1: July 11-15, 2022
Session 2: July 25-29, 2022
General: $300
Members: $270
Camp will run from 9AM-3PM for both session 1 and session 2.
Both sessions are intended for children ages 8 to 12.
You can learn more about Camp Huguenot by visiting https://www.huguenotstreet.org/camp-huguenot
For general questions about Camp Huguenot, please contact Alyssa Bruno at alyssa@huguenotstreet.org.
Sponsored by Stewart's Shops
This program is made possible by the New York State Council on the Arts with the support of the Governor and the New York State Legislature.
This program is funded in part by a Humanities New York SHARP Grant with support from the National Endowment for the Humanities and the federal American Rescue Plan Act.
Any views, findings, conclusions or recommendations expressed in this program do not necessarily represent those of the National Endowment for the Humanities.