Annual Reports
The Heritage Area is managed by the Hudson River Valley Greenway, established by the New York State Hudson River Valley Greenway Act of 1991 to create a process for voluntary regional cooperation among 279 active Greenway Communities within 14 counties that border the Hudson River.
Clicking the link below will allow you to access annual reports from the Greenway.

Annual Reports
News
Greenway Announces Trail Grant Program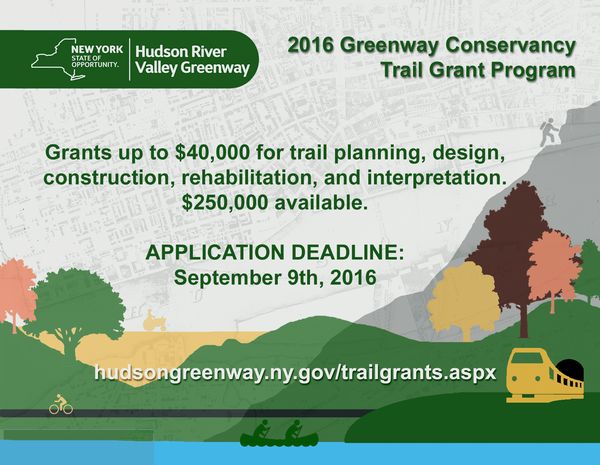 $250,000 Available for Hudson Valley Trails
(Albany, NY) The Hudson River Valley Greenway has announced a total of $250,000 is now available through the 2016 Hudson RiverValley Greenway Trail Grant Program. The program offers matching grants for trail construction, planning and design, rehabilitation,amenities, and interpretation. Priority is given to trail projects that contribute to a connected north/south Greenway Trail between New York City and the Adirondacks. The Hudson River Valley Greenway Trail System currently includes more than 773 miles of land and water trails. Municipalities and not-for-profit organizations within the Hudson River Valley Greenway area are eligible to apply.
The 2016 Hudson River ValleyGreenway Trail Grant Program was made possible through the historic $300 million Environmental Protection Fund allocation in this year's New York State Budget. Grant program guidelines and application are available on the Greenway website,http://hudsongreenway.ny.gov/trailgrants.aspx. Applications are due by 4 p.m. on September 9th.
"These grants help communities and non-profits plan and build trails that contribute to the development of a world-class regional Greenway trail system," said Mark Castiglione, acting Executive Director of the Hudson River Valley Greenway. "Trails not only increase quality of life and promote healthy activity, they also help to reduce our carbon footprint,support economic development, and create jobs. I applaud Governor Cuomo and legislative leaders for providing funding for this important grant program."
"Our regional Greenway Trail plays an invaluable role in our community,providing an incredible resource for residents and tourists alike," said Senator Sue Serino. "Continuing its expansion, development and improvement is a win for both our communities and our environment which is why I was proud to push for the funding necessary to make these projects a priority. I encourage our local communities to take advantage of the opportunity to apply for grant funding and I look forward to seeing the ways in which innovative projects can help our communities, and our environment, thrive."
Assemblymember Didi Barrett said, "Increasing funding for the Environmental Protection Fund was a priority during state budget negotiations this year. These grants are a terrific win-win-win for the Hudson Valley; they will enhance our communities, increase tourist visits, and create local jobs."
"What a privilege is it is to be surrounded by such beautiful natural trails. I am grateful for the Hudson River Valley Greenway's vital work to keep these precious natural resources adequately managed," Assemblymember Kevin Cahill said. "As a catalyst in the creation and continued maintenance of these pathways, this grant program will enhance communities by encouraging exercise, boosting job creation and serving as a connective thread between numerous cultural assets and historic preservation sites."
"It is great to see funding go to expanding the Hudson River Greenway,"said Assemblywoman Sandy Galef. "People are very energized by the trail activity in the area, which promotes healthy outdoor activities and enjoyment of the magnificent Hudson Valley."
The Greenway Conservancy Trail Grant Program is an annual competitive grant funding opportunity.Emphasis is placed on trail projects that seek to implement the goals of the GreenwayTrail Program, connect Greenway trails, and make improvements to designated Greenway Trails.
The Hudson River Valley Greenway was established by the Greenway Act of 1991 to continue New York State's commitment to the preservation, enhancement and development of the world-renowned scenic, natural, historic, cultural and recreational resources of the Hudson River Valley, while continuing to emphasize appropriate economic development activities and remaining consistent with the tradition of municipal home rule. One of the Greenway's primary objectives is to establish a Hudson River Valley Greenway Trail system: a continuous trail that links cultural and historic sites, parks, open spaces and community centers, and provides public access to the Hudson River, from New York City to the Adirondack foothills. The Hudson River Valley Greenway also manages the federally designated Hudson River Valley National Heritage Area.
Visit www.hudsongreenway.ny.gov for more information on the Hudson River Valley Greenway