Winter 2018 Gilded Age Tea & Talk Series at Staatsburgh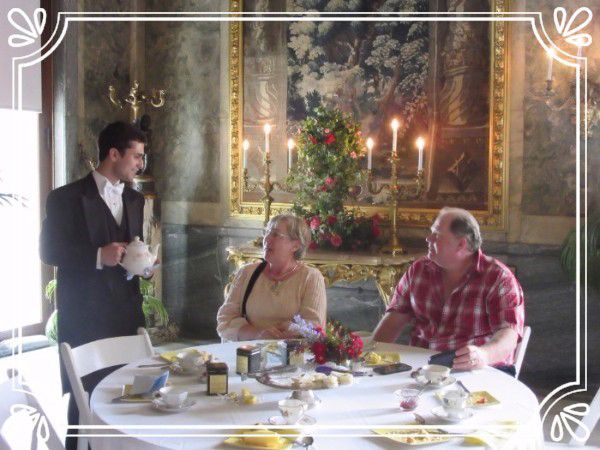 Jan 28, 2018 to Apr 22, 2018
Location: 75 Mills Mansion Drive Staatsburg, NY 12580
Staatsburg's Gilded Age Tea & Talk series for January - April 2018 is announced! Enjoy tea and refreshments in the formal dining room while listening to talks about aspects of Gilded Age history.
Each guest will receive a tin of Staatsburgh Blend tea created by Harney & Sons. This year, the theme is "Leisure in the Gilded Age" and each talk will explore a different aspect of leisure activitiesof elite society. Our tea series always sells out, so call 845-889-8851 to reserve your spot. Also, if you're looking for a unique holiday gift, consider a gift certificate to a tea program.
Cost: $35 / Person, $30 / Friends of Mills Mansion Members
Reservations are required.
All teas begin at 1pm.
Snow date will be the following Sunday (Jan-March dates)
The perfect holiday gift for a tea and history lover: A gift certificate to a Tea & Talk program! Gift certificates make a special gift, and can be used with any program in our 2018 tea season.
January 28
Bicycling—Women on a Wheel
Guest historian Kjirsten Gustavson will discuss the impact of the bicycle on women's social status during the years before suffrage.

February 10 & 11
Famous Love Stories of the Gilded Age
Enjoy a Valentine tea and a chocolate treat while listening to stories of true love and devotion, researched by Staatsburgh curator, Maria Reynolds. *New stories every year*
Snow dates: February 17 & 18
February 25
Art on Ice: Gilded Age Figure Skating
Staatsburgh curator and professional figure skater, Maria Reynolds, will explore the popularity of skating during the many winters of the Gilded Age.

March 11
Art Collecting in Gilded Age America
Staatsburgh site manager, Pam Malcolm, will provide some glimpses of great art collections of the period and explore some of the reasons for their creation.

March 25
Mansions on the High Seas: Gilded Age Yachts
Staatsburgh site manager, Pam Malcolm, will present on some of the pleasure yachts of the Gilded Age elite, which were equipped with all the luxury and conveniences of their mansions—an opulent setting for exotic travel. *Snow date is April 8.

April 15
Scandalous Dances of the Gilded Age
We may not find the waltz and the tango scandalous today, but in the Gilded Age, they were cutting edge! There will also be a demonstration. Presentation given by Joe Donato of the Hudson Valley Dance Depot.

April 22
Bet Your Bottom Dollar: Gambling in the Gilded Age
From the bridge table to the racetrack, fashionable society placed their bets...sometimes with disastrous results! Site educator, Don Fraser, will relate some tales of the Gilded Age sporting life.