Fall and Winter Hours at Washington's Headquarters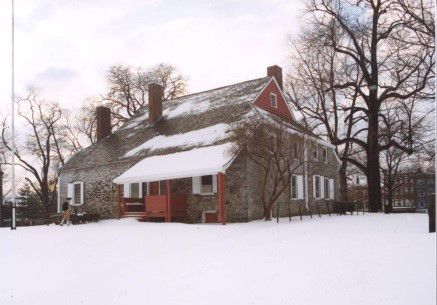 Nov 3, 2017 to Mar 31, 2018
Location: 84 Liberty St, Newburgh, NY 12551
As the seasons change, Washington's Headquarters State Historic Site changes its hours of operation. The last day of our extended hours will be Sunday, October 29th. The site will reopen on Friday, November 3rd to begin its Fall/Winter hours, which are Fridays and Saturdays, 11:00 AM until 3:00 PM. Schools and other groups of one or more can visit Tuesday through Saturday by pre-arranged appointment, and the site will also open for Special Events. The site plans to expand its hours again in mid-April.
Come in from the brisk outdoors and take a guided tour of the historic farmhouse used by General and Mrs. Washington, several of his aides, guards, servants and slaves during the last 16 ½ months of the Revolutionary War. Walk In the same rooms as the General did in the house where he announced the cease fire, rejected a monarchy, and created and awarded the Badge of Military Merit, precursor to the Purple Heart.
Visit our multi award-winning exhibit, Unpacked & Rediscovered: Selections from Washington's Headquarters' Collection. From our grounds enjoy the scenery of the Hudson Highlands and the majestic Hudson River view during the Autumn/Winter season.
For further information contact 845-562-1195.
Washington's Headquarters State Historic Site is a registered national historic landmark. It is located at the corner of Liberty and Washington Streets within the city of Newburgh's East End Historic District. The site is one of 35 historic sites within the New York State Office of Parks, Recreation and Historic Preservation and is one of 28 facilities administered by the Palisades Interstate Park Commission in New York and New Jersey. For further information contact: (845) 562-1195. For more information about New York State Parks, please visit our website at www.nysparks. com. For more information call 845-562-1195 or visit us on Facebook at www.facebook.com/washingtonsheadquarters